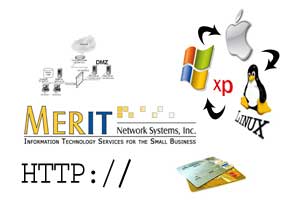 Merit Network Systems is an Information Technology consulting firm located in Meridian, Idaho that serves Boise, Meridian, Star, Eagle, Nampa and all of the Treasure Valley. We provide Mac, Linux and Windows networking and computer service. We also do web standards compliant CSS based web development as well as offer competitively priced merchant services.
Merit's goal is stated simply: Merit wants to be a reliable, dependable and trusted resource for networking, systems support and web development in the Treasure Valley.
How do we do it? We provide high quality service, attention to detail, complete disclosure of all services provided and ethical and honest business practices. Our clients are typically small businesses that depend on their computers, networks and website to run their business. If their computers are down, they're down.